Hawk 289 Limited Edition - '39PH'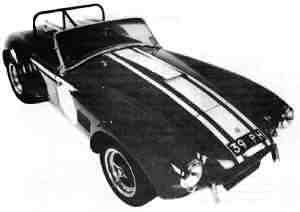 In 1963, a car, now better known by its registration 39 PH, was entered for the Le Mans 24-Hour Race. It was fitted with a distinctive hardtop, and a replica of the car as it was in 1963 is available from Hawk Cars.
After 1963 the original Le Mans car was sold and further developed for sportscar racing; the bodywork was modified extensively including fitting FIA doors and cavernous wheel arches to cover new race rubber. It acquired a distinctive red and white livery, which it still wears to this day. It was raced successfully in these colours, throughout Britain and Europe where it notched up an enviable record, and is now probably one of the most famous sportscars of all time. This car has been a regular competitor in the extremely popular Goodwood Revival meetings, along with other stablemates of this type.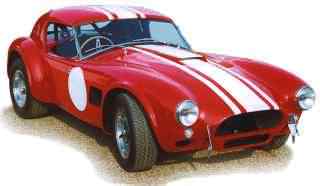 With the co-operation Nigel Hulme (it's owner until very recently), Hawk Cars have produced an accurate replica of this car, but only 10 of these will be available in the UK.
The Hawk 39 PH - Limited Edition features include an accurately moulded bodyshell to faithfully recreate the original, a removable Le Mans hardtop, together with the two-section boot lid - the body is ready fitted to a high quality, powder coated tubular chassis which can be supplied to accept either Rover or Ford V8 engines. The mechanical specification is similar to that of the Hawk 289, an IRS version, which accepts Jaguar components, is available if required.
Special parts such as the distinctive roll-over bars and quick-lift jacking points, as well as the beautiful knock-on alloy wheels are available from Hawk Cars.
The Hawk 39 PH Limited Edition is a high quality replica of a unique racing car, which will not be repeated after the specified number have been built, and although these cars are likely to be regarded as collectors items in future years, we feel sure that this is a car you will want to keep for ever.
Available in component form with IRS chassis option - kit contents as for the Hawk 289, but with the addition of the special bodywork, hardtop, special bonnet with Le Mans scoop and two-section boot lid.