Hawk 1.8 and 2.6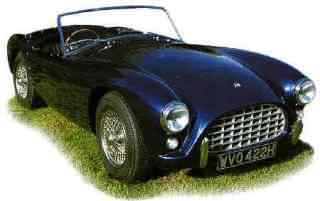 Having produced the ultimate 289 replica, the production of the classic English sports car from which the Anglo-American muscle car was developed seemed a natural step - Hawk Cars are now proud to offer their superb Hawk 1.8 & 2.6
When built with care and attention to detail, this replica would have an expert fooled - as our beautiful demonstration car proves. The Hawk 2.6 uses the same twin-tube chassis as the 289 and the GRP body is constructed to the same very high standard. Like the original, the car is powered by a straight six cylinder engine. The 2.5 litre Triumph unit is the obvious choice, the same chassis will accept the MGB engine and gearbox. Mountings for the BMW 6-cylinder engine or the 2.6 litre Ford Zephyr (which powered the original 2.6) can be fitted to special order
The donor vehicle for the Hawk 2.6 is again the MGB, and a wire-wheel back axle is required. With all the main running gear coming from a single donor vehicle a straightforward build is assured. All of the parts required to complete the car, including donor car items, are available from us.
The kit includes the GRP bodyshell in grey, colours available at extra cost. Although a very acceptable finish can be achieved from our fine gel-coat, we recommend that the car is spray painted on completion. The body is supplied having been jig mounted to the epoxy coated steel chassis with doors and bonnet pre-fitted. The intermediate steering shaft and pedal box are included in the price. Also included are the spare wheel well, dash panel, glove box and centre tunnel mouldings
Options:
For all-year motoring, a works hardtop is available. Also, we can supply all items of brightwork and trim.
Build Cost:
The build cost is dependent on the standard of the completed car and while it may be possible to put a Hawk 1.8 & 2.6 on the road for around £7000, it is expected, that to do the car justice, most home builders will spend around £10 / 12,000.