Coffin-Spoke Alloy Wheels


Due to the very restricted availability of the 'coffin-spoke' style wheels used on the Lancia Stratos, Hawk Cars have arranged for remanufacture of new alloy wheels to this original and popular design.

The new versions of these wheels are suitable for use on original cars, as well as on our HF2000 and HF3000 replicas.
The picture below shows a 'Group 4' set of these wheels fitted to a customer's HF3000.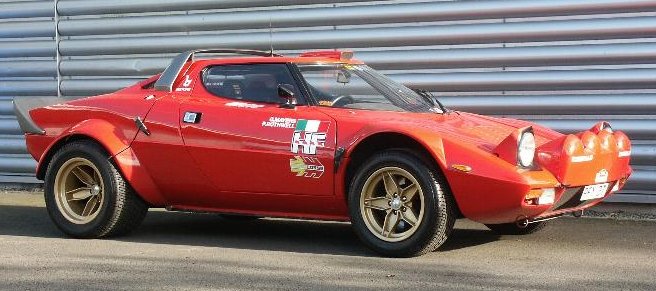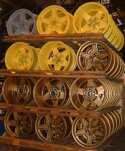 Specifications
Two sizes available, 8" or 12" width; both in 15" diameter
Stud pattern for Lancia/Ferrari PCD (108mm, as per original Stratos),
or for Alfa Romeo five-stud PCD (98mm, for fitment to HF3000 replicas)
Cast and machined by a reputable manufacturer of alloy wheels
Wheel rim design allows for fitment of larger brakes than original wheels
Material is a light and strong aluminium alloy (not magnesium alloy)
Prices
Stradale Set (4 wheels, all at 8" x 15" size), £tbc
Group 4 Set (4 wheels, 2 at 8" x 15", 2 at 12" x 15"), £tbc
Single/additional wheels (8" or 12" width), prices on application according to order size
(All prices plus carriage and VAT)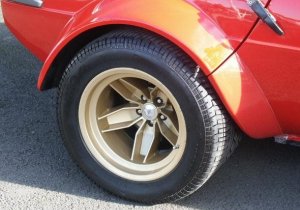 Ordering
If you wish to order a set of these wheels from stock, contact Hawk Cars with your requirements.
You will need to specify the wheel sizes required, and the five-stud PCD dimension of your car (either 108mm Stratos/Ferrari or 98mm Alfa PCD).
These wheels are not available with a four-stud fitting.